Deprecated: Non-static method MtxShortenTheContent::MtxPregCallbackContent() should not be called statically in /home/oldbliiv/loxpex.com/wp-includes/class-wp-hook.php on line 308


Maria Becerra was chosen to be part of the soundtrack of "Fast and Furious X", the tenth film of this renowned saga that has a very loyal fandom. However, those who follow the singer's artistic career were not satisfied with her participation in fiction.

Through their respective Twitter accounts, the vocalist's fans expressed their discomfort at their minimal participation in said film. "I went to the movies to see 'Fast and Furious' just to see Maria Becerranot only that it doesn't appear, but the song seems like two seconds and in the background"expressed a follower of the artist.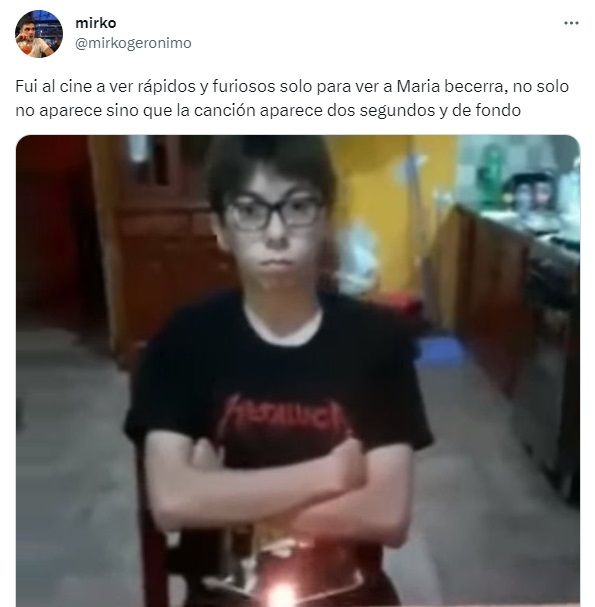 "We should make a mobilization so that they reedit the 'Fast and Furious' movie and play María Becerra's song for more than 10 seconds, it cannot be that they waste a tremendous song"suggested another Twitter user outraged with the brief participation of the song by the Argentine composer.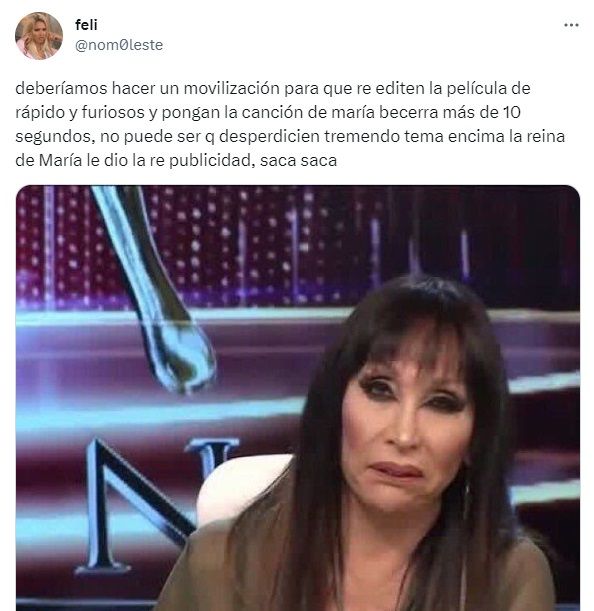 Another of the vocalist's fans commented: "They invited me to see 'Fast and Furious 10' and I stayed the whole movie waiting for María Becerra's song and it was so inconsequential that I didn't even pay attention when it sounded and I was like that (surprised) when the movie ended". In this way, the fans expressed their dissatisfaction with the participation they gave the singer in the film.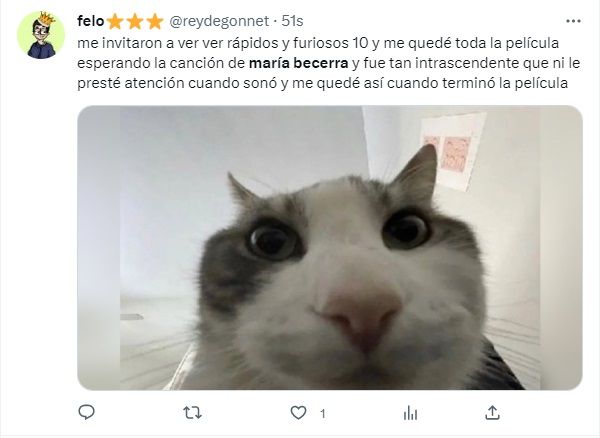 Vin Diesel praised the talent of María Becerra
The journalist Mariano Ojeda was in charge of getting Vin Diesel's word, while he was being interviewed. After asking for a message dedicated to Argentine fans, the actor immediately replied: "For Argentina? I recently met María Becerra, who writes one of the songs on the soundtrack. She is incredible, she is breaking it and she represents the country in the saga"being very happy and full of praise for the national artist, who is already well recognized on the international scene.
There is no doubt that the presence of Maria Becerra It makes itself felt wherever it goes. It is that although the young woman was not present at the filming of the film since she is the interpreter of "Te Cura", one of the songs on the soundtrack, Vin Diesel managed to remember her and highlight her among many other artists present in the film.