Moroccan Abd al-Razzaq Hamdallah, the Jeddah striker, established a close relationship with Al-Hilal when he played with Al-Nasr about 5 years ago, but the current Saudi Roshan League scorer did not know the way to the Azraq goal 3 and a half years ago in the league competition, i.e. 1297 days since his last goal against Abdullah. The defective.
Ittihad Jeddah, leader of the Saudi Roshan League standings, will meet with 62 points, with Al-Hilal, fourth in the standings, with 49 points, on Tuesday, in the 27th round of the competition.
Although Hamdallah tops the Saudi Roshan League scorer rankings with 20 goals, two goals behind Al-Hilal striker Odion Ighalo, the Moroccan striker has not scored Al-Hilal in the league competition since October 2019 when he was then with Al-Nasr.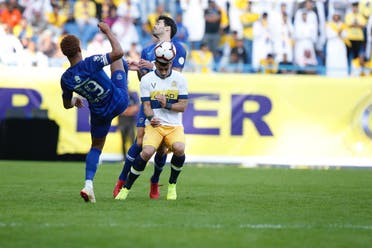 In the first 3 matches that Hamdallah played against Al-Hilal in the Saudi League, he scored 4 goals when he was a Nasreen player, but 1297 days ago, the player looking for his third title as a scorer for the Saudi League did not know how to reach the blue goal.
Hamdallah scored his periodic goals against Al-Hilal in December 2018, when Al-Nasr tied with its traditional rivals 2-2, and in the following March, Hamdallah scored a goal in his former team's victory over Al-Azraq 3-2, and the Moroccan international scorer scored two goals in Al-Nasr's victory over Al-Hilal 2-1 month. October 2019, but that relationship stopped, even though the Moroccan player played 4 matches against Al-Hilal equally between Al-Nasr and Al-Ittihad.
In the August 2020 match, after the league competition returned to rotation after it was suspended due to the Corona virus, Al-Nasr lost 4-1 to its traditional rival, with the presence of Hamdallah, who did not shake the blue net, and in November of the same year, Al-Nasr lost with two goals without a response, and Hamdallah was also unable to shake the net of Al-Hilal.
After moving to Al-Ittihad Jeddah in January 2022, Hamdallah played two matches with Al-Ittihad against Al-Hilal without visiting the last net.