Despite the long training career of Carlo Ancelotti, which extends to 28 years, the Spaniard Xavi Hernandez, coach of Barcelona, ​​​​was able to outperform the Real Madrid coach in the five confrontations that brought them together.
Xavi oversaw the leadership of Barcelona in November 2021, after he began his training career with the Qatari Al-Sadd in 2019, and managed to achieve the Spanish Super Cup this year, and put the Catalan club at the top of the Spanish league table, 9 points ahead of the second-place Madrid club, who will be a guest. against Barcelona at the "Spotify Camp Nou" stadium, on Sunday, within the 26th week of the competition.
Sunday's sixth match will be for Xavi, 43, against Ancelotti, 63, and the Spanish coach is superior to Ancelotti in previous confrontations, as he won three times against two defeats against Real Madrid.
Xavi's first match against Real Madrid, led by Ancelotti, was in the semi-finals of the Spanish Super Cup in the 2021-2022 season, and the capital club won it by three goals to two.
Two months later, they met again in March 2022, and Xavi dealt a heavy blow to Ancelotti, when he led the Catalan club to win El Clasico with a big score of "4-0" and at Real Madrid's "Santiago Bernabeu", within the 29th week of the league.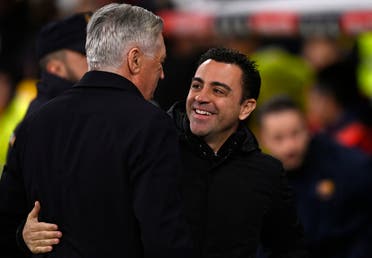 In the next edition of the league competition, Ancelotti outperformed Xavi in ​​El Clasico, after Real Madrid scored a hat-trick at the Camp Nou in the ninth week.
Since the match that took place in October 2022, Ancelotti has not been able to outperform Xavi, as he lost the Spanish Super Cup final by three goals in Riyadh last January, and Barcelona repeated its superiority over its traditional rivals with a free goal, in the semi-finals of the King's Cup, in the meeting that was held on Santiago Bernabeu stadium early March.
Under the leadership of Xavi, Barcelona scored 11 goals against Real Madrid, while the Catalan club scored 7 goals and scored a clean sheet in one match.
During his career with Barcelona, ​​u200bu200bCarlo Ancelotti is the most coach that Xavi has surpassed, equally with Francisco Rodriguez "Elche", Manuel Pellegrini "Real Betis" and Emanol Alguasil "Real Sociedad".