Yanina Latorre She is known for being the spicy panelist of LAM, but she also saves a bit of her mischief to Twitter. On this occasion, the panelist did not keep her opinion in front of a note that Show Partnersthe program of Adrian Pallares and Rodrigo Lussichhe did to Taky Natali, Ricky Maravilla's girlfriend.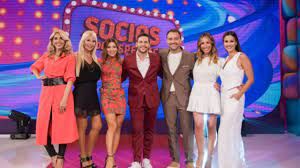 For several days now, information has been circulating in gossip programs about an alleged love triangle between Ricky Maravilla, Taky Natali and Gladys La Bomba Tucumana. Apparently, the two women would be disputing the love of the singer from Salta. Regarding this issue, the Partners echoed this rumor and made a note to Taky Natali, who suspects his partner after finding some chats with La Bomba. The controversial thing is that Taky made the note from the bathtub with water, a lot of foam and petals.
This note generated the reaction of people on social networks. A user posted the mobile photo and wrote: "What is this? This program is a disaster. What not to have entertainment news, Partners. And to think that at that time LAM broke it. Blessed are you LAM.
Yanina Latorre He did not stay out of the debate and took the opportunity to criticize the competition. The panelist quoted the tweet and wrote: "embarrassment". This tweet could open the door to a fierce confrontation between the two show programs: THE M and Show Partners. And to add more spiciness, Angel de Brito retweeted Latorre's comment.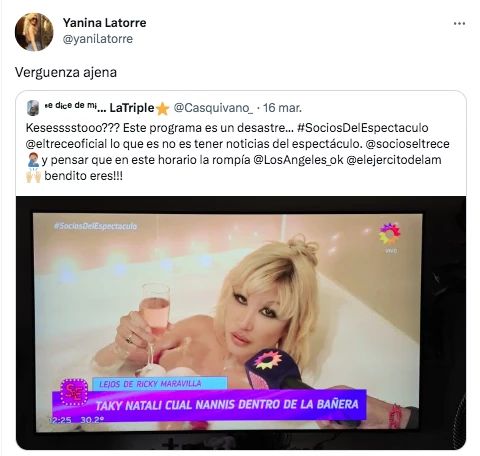 NL.