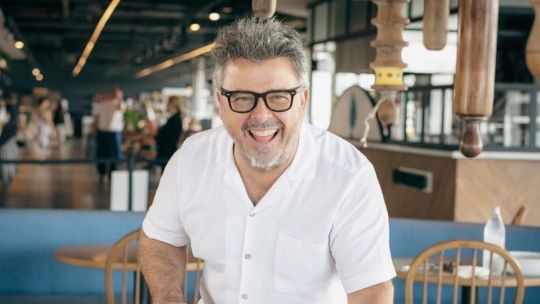 the italian cook donato de santiswho is one of the jurors together with Damian Betular and German Martitegui, commented on the businesswoman Wanda Nara and the role she plays as host of the Masterchef cooking reality show.
"Wanda is very comfortable. I see her as very safe, calm and relaxed. I see her having fun, that's important. She is a natural Wanda, much more accessible, very attentive to the directives of the television program, "Donato commented in the radio cycle Hold on Catherine. The chef also acknowledged that he had a bad impression of Wanda for the "divismo" of Zaira Nara's sister: "We thought maybe he was going to broadcast some degree of divism and nothing to do, he sits with us, eats with us and chats."
Karina Iavícoli criticized the driving of Wanda Nara
A few days after the premiere of master chef and the debut of Wanda Nara As a host, it generates some uncertainty about how the media will perform on the Telefe screen. The truth is that the journalist Karina Iavicoli, He gave his humble opinion about the businesswoman.
"She has to show what she is like as a driver, alone. And there is no edition that saves it. This is not to be thrown away unless we are going to see you when you start to criticize it first. On Tuesday we destroy you. But it seems to me that now everything depends on her."
In addition, he added that Wanda has no experience as a driver and said: "She doesn't have two fingers of brain, to say 'I'm not ready for this'. And I've known her since she started, from the underpants".
Very hard!
JM