Argentine newspapers confirmed early Friday morning that the country's public prosecutor had requested the arrest of Michael Diaz, son of Al Hilal coach Ramon Diaz, on charges of causing a fatal accident in which two people died.
The coach received the news of the painful accident after the end of the Al-Hilal and Al-Fateh match in the quarter-finals of the King's Cup on Tuesday. The incident resulted in the death of Barbara, his son's wife, and Michael's transfer to the hospital, accompanied by Diaz's 8-year-old grandson, in addition to the death of the driver of the other car.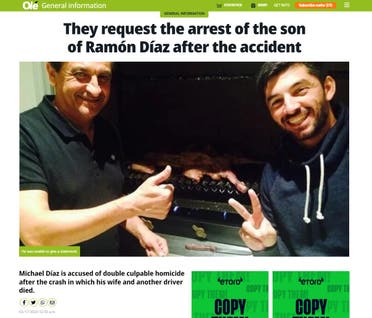 And the newspaper "Ole" in addition to the network "TYC" stated that the Attorney General Lisandro Mason requested that Michael be arrested, who is currently under heavy security in the hospital in preparation for undergoing surgery due to a fracture of the femur.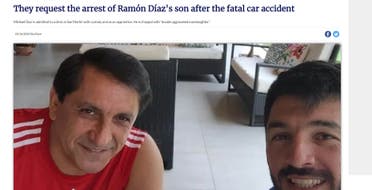 The newspaper revealed that the public prosecutor visited Michael at his treatment facility at the Acnchorena Sanatorium in San Martin to take his statement, but he was unable to complete his mission due to the accused's health condition.
The law in Argentina states that when a person dies as a result of another person's negligence or wrongful conduct, the victim's family members can file a lawsuit against the persons responsible for the wrongful death to seek monetary compensation for the damages resulting from their loss.