Spanish actress Heba Abouk hid after her husband, Ashraf Hakimi, the star of Paris Saint-Germain and the Moroccan national team, was accused of sexual assault and rape, as media revealed that she lived in an unknown location in the capital, Madrid, after she refused to return to their home in a suburb of Paris.
Abbouk became under the microscope of the international media after her husband, Ashraf Hakimi, was accused of sexual assault and rape by a girl in the French capital, Paris, at the end of last February, while the player denied these accusations.
According to the Spanish newspaper "El Mundo", the famous actress decided to hide from view after her husband was accused, and did not publish anything through her accounts on social media platforms, and even went to live in a suburb of Madrid to hide from the paparazzi's lenses.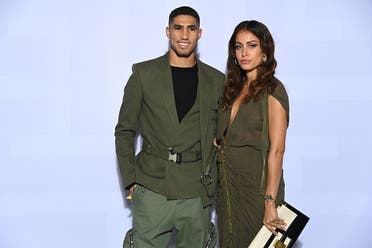 Abouk recently appeared inside a shopping center with an unfamiliar identity at all, as she covered her face with a hat and wore sunglasses so as not to be recognized, amid news of the start of the procedures for her separation from her husband, who starred in the last World Cup with his country's national team late last year.
Heba was outside Europe when the alleged rape story occurred, and instead of returning to Paris, she decided to go to Madrid, and chose one of its suburbs to stay there until the storm that aroused by her husband's accusation story ended.