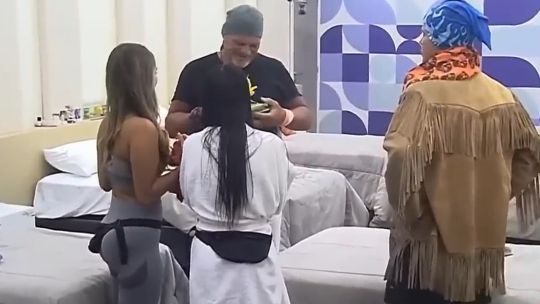 This Tuesday, January 24, Walter Santiago, whom everyone knows as "Alfa" inside and outside the Big Brother houseHe received his birthday in a very special way.
The truth is that when the time came, all the little brothers greeted him with great affection and they even all dressed up with scarves on their heads to honor him.
The gesture of Julieta, Marcos and Daniela with Alfa inside the Big Brother house
Daniela Celis, Julieta Poggio and Marcos Ginocchio decided to give Alfa a special gift inside the Big Brother house on the occasion of his birthday.
After the massive greeting, the three boys called the birthday boy into the room and gave him the gift in question. "We wanted to surprise you with Juli. It's with a lot of love, but you can't say anything. It is a secret of the three. Happy birthday", exclaimed the participant from La Reja.
Although they did not provide further details, everything indicates that Julieta, Marcos and Daniela they hid food to give it to the contestant The longest-lived in the house because on Monday afternoon videos circulated of the girls hiding something they had taken from the shopping cart.
Indeed, when Alfa received the gift, in addition to thanking him, he said that he wanted to share it with everyone and Julieta Poggio insisted that "he eat it only because it was for him."
In the end, Big Brother is a big family.
CS.