It is public knowledge that in recent times, Karina the Little Princessdecided to break the silence to communicate her discomfort with the intention of stopping being singled out or judged by those who do not know her sufferings.
Through the stories of his official Instagram account, Karina He revealed a situation that he experienced in which he stated that they let go of his hand when he needed it most. "You are there, sign when people are bad and when they get well and no longer need you, they are erased"said the singer.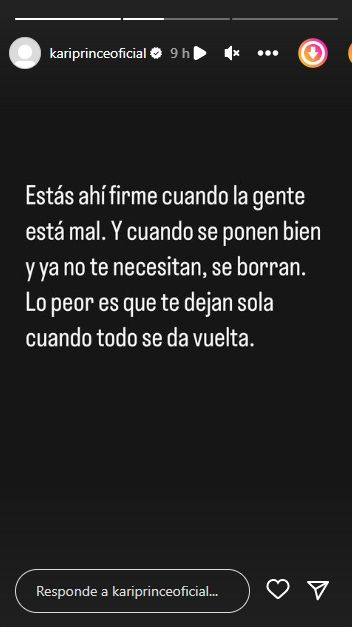 As if that were not enough, the interpreter of "Liar Heart" added: "The worst thing is that they leave you alone when everything turns around". In this way, she made it clear that when she needed the support of the people she had accompanied in difficult moments, they were not there and turned their backs on her.
Following that, Sol's mother shared an image that reads: "I want to hug my self from yesterday and tell him that he did not deserve everything he lived through". Obviously, the disappointment that the artist experienced caused her deep pain.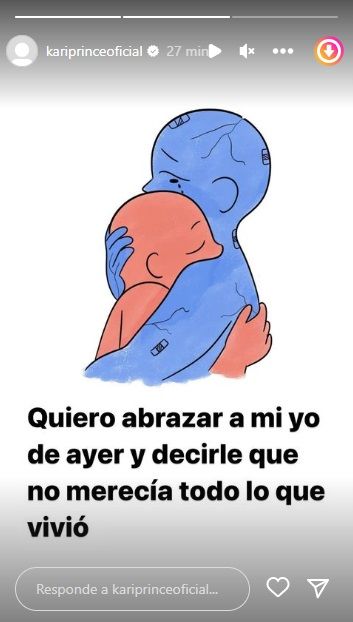 Karina, the Little Princess, revealed that she suffers from anxiety attacks
The singer talked about anxiety attacks and created mystery with her publications. "I don't wish anxiety attacks on anyone, you feel like you're dying. You don't know what to do. You can't breathe. How evil some people have. You don't understand why so much"wrote the artist.
Karina She no longer silences her discomforts, after so many years of experiencing distressing situations without making it public, the vocalist chose to share what she feels when she is not well.