Spanish media reports revealed, on Sunday, new details in the case of Brazilian player Dani Alves, who is in prison on charges of sexually assaulting a 23-year-old girl.
And the newspaper "Marca" said: The girl claimed that Alves locked her in the bathroom of the nightclub, on the night of last December 30, for a quarter of an hour, and he also assaulted and slapped her as well.
The former Barcelona player, who participated with his country's national team in the 2022 World Cup, is in Bryans prison in Barcelona.
After the accident, the victim was transferred to Clinique de Barcelona Hospital, where a medical examination was performed, Marca said.
And the Catalan television "TV3" reported that Alves presented three different accounts, where he first said that he did not know the girl, then said that he saw her, but nothing happened, and finally he stated that the girl threw herself at him.
After Alves was imprisoned, the president of the Mexican club Pumas, in which the Brazilian was playing, announced the termination of the right-back contract, saying: We cannot allow anyone's behavior to harm the club's business philosophy.
In turn, model Joanna Sanz defended her husband, Alves, and published a picture of him with her through her account on the "Instagram" application with the phrase "together."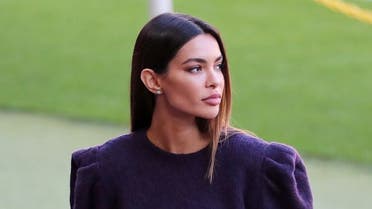 Model Joanna Sanz
And she made a special request via "Instagram", and she said: I ask the media outside my house to respect my privacy at this time, my mother died a week ago, I just started assuming that she no longer exists, to suffer now from my husband's condition, I lost the only two pillars in my life, And I have a little sympathy, I want privacy instead of searching for a lot of news about other people's pain, thank you.