Criticism of Belgium star Kevin De Bruyne for winning the Man of the Match award caused a divergence of opinions about the eligibility of the winner in the meeting that brought together the "Red Devils" in Canada.
Belgium won a difficult match with a goal without a response through Michy Batshuayi, and the match witnessed Thibaut Courtois save goalkeeper Alphonso Davies, in addition to the North American team wasting several opportunities out of 22 shots fired by its players during their second appearance in the World Cup.
Usually football matches in major tournaments are not without the event of selecting the best players of the match and crowning him with a special award for the title, as Kevin De Bruyne, the Belgium playmaker and English club Manchester City, was chosen as the star of the match to comment after winning it, saying: I do not think I played a great match, and I do not know Why I got the award maybe because of my name.
Fans vote for the best player award in the match between the 60th and 88th minute of each match, up to the final, through an application affiliated with the International Federation of Football Associations (FIFA), while the latter determined a special technical committee to choose the winners at the end of the competition, such as the prizes for the best player, goalkeeper, promising player, and others consisting of 7 People.
The International Federation of Football Associations (FIFA) announced 5 days ago the members of the technical committee that oversees several tasks in the major tournament, including choosing the final prizes for the major tournament, as members of the committee watch the matches from the field to help FIFA determine the prize champions.
The committee consists of Frenchman Arsene Wenger, former Arsenal coach and director of football development at FIFA, German Jürgen Klinsmann, 1990 World Cup champion with West Germany and coach of his country in the 2006 World Cup, and Nigerian Sunday Oliseh who appeared with his country's logo in two World Cups in addition to his game. With Juventus, Ajax and Dortmund.
The committee also included the Italian Alberto Zaccheroni, the veteran coach in 4 countries and clubs such as AC Milan, Juventus, Lazio, Inter Milan and South Korean Cha De Re, who wore his country's shirt in two World Cups, including the historic 2002 edition.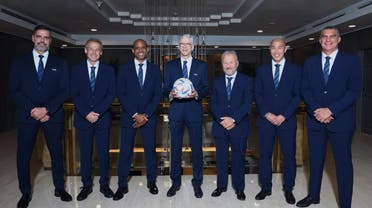 Technical Committee members
The Colombian goalkeeper, Fred Mondragon, was chosen as part of the committee, who played with the "Cafeteros" team in the 1994 and 1998 tournaments, in addition to 2014, when he was the oldest player in that competition at the age of 43, and finally the Swiss Pascal Zuberbueller, who occupies the position of football expert in "FIFA" in addition to achieving a number. Continuing in the 2006 World Cup as the only goalkeeper who was excluded from the tournament without receiving any goal.