Brazil star Neymar suffered an injury to his right ankle, as he left the stadium limping, in the match that his country's national team won over Serbia 2-0 in the Qatar 2022 World Cup, according to what AFP journalists noted.
While he was on the bench, the French Paris Saint-Germain player took off the shoe from his right foot and removed his sock and shin guard, and in the pictures taken by Agence France-Presse photographers, a swelling the size of an egg appeared at the bottom of his foot.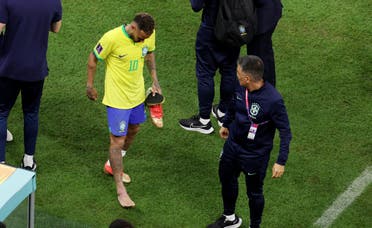 Neymar
Then Neymar appeared limping upon his return to the dressing room. Neymar has a long history of injuries, specifically in his right ankle in 2019, which at that time kept him from participating in the Copa America. He also suffered a severe back injury in the quarter-final match of the 2014 World Cup against Colombia, which prevented him from completing the campaign in the version hosted by Brazil.
Neymar appeared very active in the match that was held at Lusail Stadium, where the final match will be held on December 18, and he was one of the most prominent players of the Brazilian national team until his exit in the 80th minute.
Brazil, aspiring to win the World Cup for the sixth time, will face Switzerland next Monday.