The price of the Argentine shirt, Lionel Messi, who lost 2-1 to the Saudi national team on Tuesday, was one of the biggest surprises in the history of the World Cup. More than 200 thousand Saudi riyals.
The Saudi national team overturned its delay with the goal of an exciting victory over Argentina in the first match of the fourth day of the 2022 World Cup, as Messi scored a goal in the tenth minute from a penalty kick, before Saleh Al-Shehri and Salem Al-Dosari responded at the 48th and 53rd minutes, respectively.
The "AC Momento" company, which holds auctions for soccer players' shirts, announced the sale of the shirts of some Argentine players who played the match, led by Messi, whose shirt price reached 57 thousand euros, equivalent to approximately 222 thousand riyals.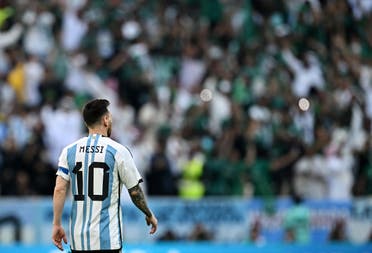 The price of Di Maria's shirt reached 2,390 euros (9,300 riyals), and his colleague Lautaro Martinez's shirt amounted to 1,650 euros (6,500 riyals), while Rodrigo de Paul's shirt was offered at 1,000 euros (3,800 riyals) and Paredes at 800 euros (3,100 riyals).
The auction for the shirts of the Saudi Arabia and Argentina match ends on Saturday, November 26, 2022.
The Saudi national team will meet its Polish counterpart on Saturday, while Argentina will play Mexico the same evening.