The Saudi national team ended the unbeaten streak of its Argentine counterpart, which began more than 3 years ago, when it defeated it on Tuesday, with two goals to one, in the 2022 World Cup.
Lionel Messi advanced with a goal for Argentina from the penalty spot, before Saleh Al-Shehri and Salem Al-Dossary scored two early goals in the second half, to achieve the "Al-Akhdar" the first victory in the current World Cup.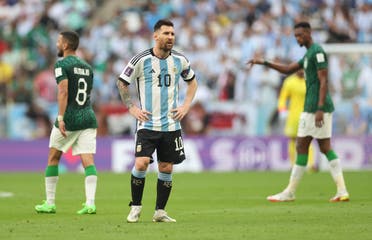 The Argentine national team ended its campaign in the South American qualifiers for the World Cup without any defeat, to raise its tally of successive matches during which it did not know the taste of loss to 36 consecutive matches, with 25 victories and 11 draws, noting that the last defeat of Tango came in the Copa America in July 2019 against Brazil.
The Argentine national team was only one match away from equaling the record of the Italian national team, which played 37 games without defeat between 2018 and 2021.
Argentina won all four matches in which it faced Asian teams in the World Cup tournaments before falling to Saudi Arabia on Tuesday.
The last time Argentina lost its opening World Cup match was in the 1990 edition against Cameroon, and since then Argentina has won six opening matches and tied one.
Saudi Arabia played 4 matches against Argentina, which ended twice in favor of the latter, in exchange for two draws.