Saudi Arabia achieved its first World Cup victories under the leadership of a European coach, French Hervé Renard, who led the "Al-Akhdar" to a historic victory over Argentina on Tuesday, with two goals to one, in the 2022 World Cup matches.
Saleh Al-Shehri and Salem Al-Dosari scored the two goals for Saudi Arabia, in exchange for a goal by Lionel Messi from a penalty kick.
Renard is the first European coach to lead the Saudi national team in World Cup matches since their first qualification in 1994, when Argentine Jorge Solari was then coach of Al-Akhdar, and he succeeded in reaching the final price in the first participation.

In the second qualification to France 1998, the Saudis started with the famous Brazilian Carlos Alberto Pereira, before he was dismissed from his position after the second match, and Muhammad Al-Kharashi assumed the task.
Nasser Al-Johar was the coach of the Saudi national team in the 2002 World Cup, while Brazilian Marcos Paqueta took over the task in the 2006 World Cup in Germany.
Argentine Juan Antonio Pizzi led the Saudi national team in the 2018 World Cup in Russia, and achieved a victory over Egypt with two goals to one.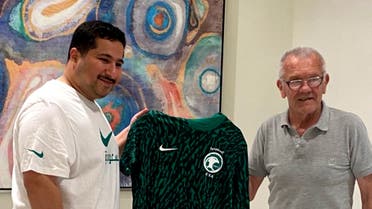 French coach Hervé Renard is considered the first coach to coach the Saudi national team in the qualifiers as well as the World Cup.