In a clear sign of support protests in their countryIran's players decided not to sing the national anthem before their opening World Cup match against England on Monday.
And all the elements of Iran's starting line-up, consisting of 11 players, were silent during the playing of the national anthem at Khalifa International Stadium, according to Reuters.
Meanwhile, Iranian television blocked pictures of the players during the live broadcast of the national anthem before the match.
in the spotlight
It is noteworthy that the formation had lost the sympathy of the masses in the country, as many accused them of siding with the authorities' violent campaign against demonstrators, including women and children, who seek the fall of the regime.
The national football team has been in the spotlight during the build-up to the tournament with speculation over whether players will use the global event as a platform to show solidarity with the protesters.
We are with them and we support them.
And on the eve of the England match, it was announced Iran's national team captain, Ehsan Haj SafiLive, during a press conference, his support for the uprising and the ongoing demonstrations in his country since mid-September, following the killing of the Kurdish young woman, Mahsa Amini.
Speaking at the FIFA World Cup in Qatar on Sunday, he also said that "the players must be the voice of those who are suffering."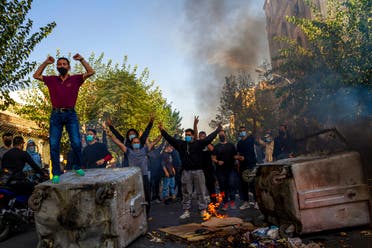 From the protests in Tehran (archived from the Associated Press)
He also added, "First of all, I would like to offer my condolences to all the bereaved families in Iran. They should know that we are with them and support them and that we sympathize with them in these circumstances."
In what appeared to be a message to the Iranian authorities, he added: "We have to accept that the conditions in our country are not right and that our people are not happy. We are here, but this does not mean that we should not be their voice or not respect them."
419 dead
It is noteworthy that the death toll from anti-regime protests in Iran rose yesterday to at least 419, including 60 children, some of whom did not exceed eight years, according to the "Hrana" organization of human rights activists in the country. While no less than 17,451 demonstrators were arrested in 155 cities.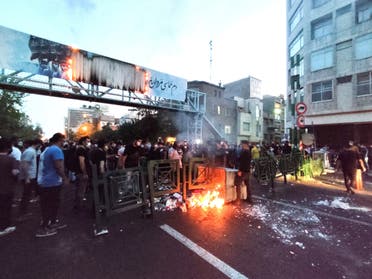 From the Tehran demonstrations (archive from Reuters)
"Hrana" also pointed out in a report published on its website that until November 20, protest marches were organized in 142 universities across the country, while the security forces arrested no less than 540 students.
The death of Mahsa Amini sparked anger over several issues, including the restrictions imposed on personal freedoms and strict rules regarding women's clothing, as well as the living and economic crisis that Iranians suffer from, not to mention the strict laws imposed by the regime and its political and religious composition in general.