We no longer present the advent calendars. Real gifts to offer or to treat yourself, these treasure mines contain in their little boxes many surprises that allow you to have fun while waiting for Christmas Day.
Infinitely adaptable, Advent calendars are reinvented every year and are experiencing dazzling success, regardless of your interests, and that, the brands have understood! Beauty, figurines, candles and other jewelry can now be found inside these enchanting boxes and allow you to enjoy the magic of Christmas before D-Day.
A fan of cocooning moments and the Friends series, we found the Advent calendar you need ! Comprising 12 boxes all containing a colored bath ball, they allow you to enjoy cocooning and relaxing moments in your bubble bath, to face the madness of Christmas in complete relaxation.
Their particularity? They are all accompanied by an emblematic quote from the series – in English – which will bring back many funny memories and anecdotes about the star television show of the 90s. Lobster" or the very famous "Joey not share his eat".
Scented with delicious fruity and sweet smells, these bath bombs will pamper you as it should. Once the 12 days have elapsed, you will be able to detach the frame of the calendar to make a decoration on the theme of the series.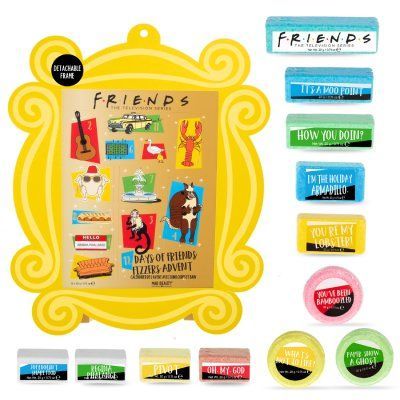 Friends Advent Calendar, €23.63
This article contains affiliate links that may be subject to remuneration from our partners.
JA