French coach Hervé Renard, the Saudi national team coach, did not know how to untie the knot of the teams coming from South America throughout his career with the national teams, as the result of a tie twice was the best he achieved without his players scoring any goal.
The Saudi national team is preparing to face Argentina at the opening of its World Cup campaign, as Hervé Renard will play his second World Cup after his first participation in the last World Cup with Morocco.
Renard, 54, coached the Morocco national team in the French coach's first match against a South American national team at the beginning of 2019, when he lost to coach Lionel Scaloni's team with the goal of Angel Correa in the match that Tangiers hosted.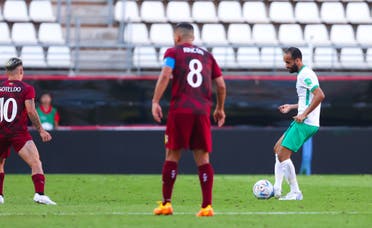 With the Saudi national team, Renard met the Paraguay national team in November 2019, and the match ended in a goalless draw.
In preparation for the current World Cup, the Saudi national team met last June with the Colombian national team, and the match ended with a goal in favor of the latter, and four days later it suffered another loss, with the same result, against Venezuela.
And the Saudi national team settled for a goalless draw with Ecuador last September, so that the Latin American teams' knot against Renard continued, before meeting Argentina on Tuesday.