Marcelo Tinelli confirmed weeks ago that he was going to travel to Qatar for the start of the World Cup. This weekend, the driver then got on the plane with his son Lolo and some friends, like his cousin El Tirri and Fede Hoppe among others.
Since they arrived, Guillermina Valdés' ex shares images and videos of each activity they carry out on their networks and tells where they are. It was like this, that he showed where they are staying and even, in which gym they train.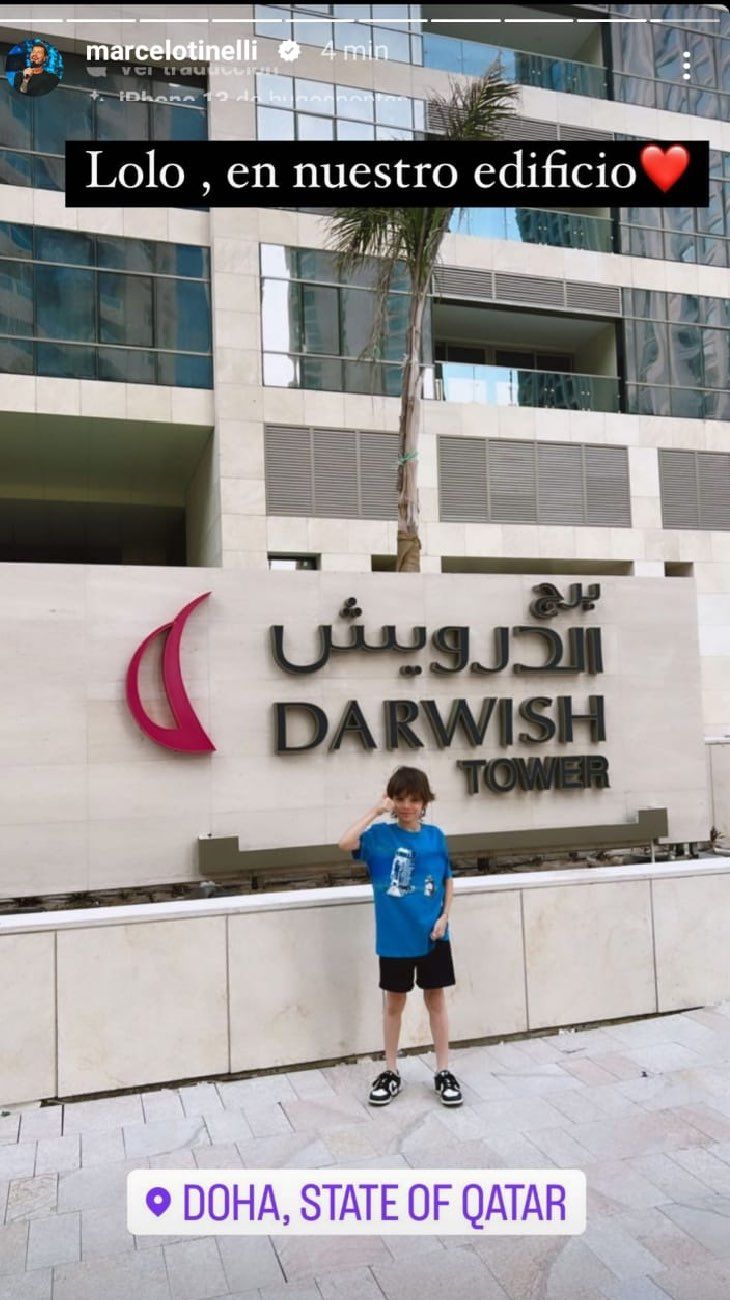 "Lolo in our building", Marcelo Tinelli wrote next to a photo of his son at the door of Darwish Tower.
According to the official website of Darwish Holding, this tower embodies luxury living in Doha. "With a financial investment of more than 400 million dollars and the participation of expert consultants, engineers and international contractors, this next generation skyscraper integrates innovative technology and is respectful of the environment", they describe.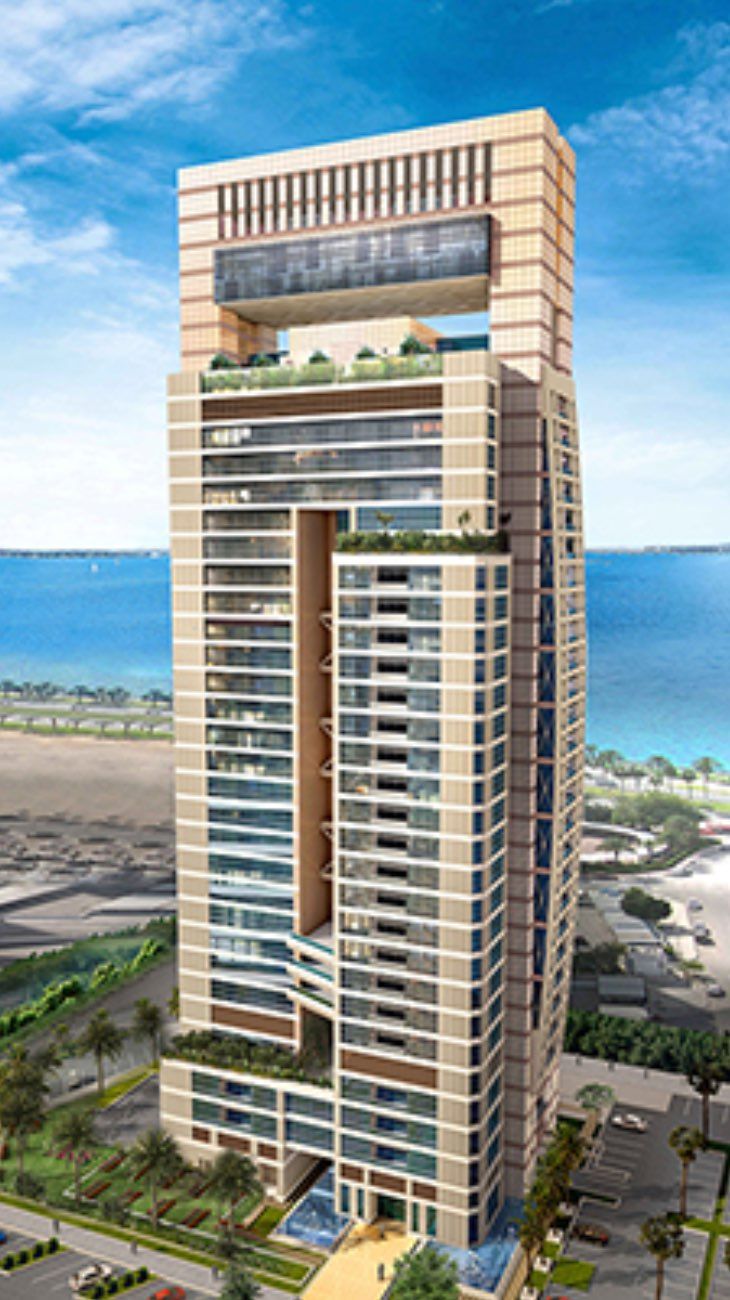 For their part, at the contractor company MAN Enterprise Qatar, they point out that it is a building 134 meters above ground level, where it houses 27 residential floors with more than 160 apartments. It has two technical floors, a health club on the 28th floor and a pool on the 29th. It also includes administrative offices on the ground floor and three levels of basements for parking and services.
Marcelo Tinelli also showed the building through a video where he showed himself on the way to the Mövenpick hotel gym. He was then shown with his cousin El Tirri training.
The driver is obviously enjoying his time in Qatar to the full. Argentina's triumph in the next game will add several points to complete an unforgettable trip for him and his friends.
This is how Marcelo Tinelli confirmed his trip to Qatar
On October 22, Marcelo Tinelli He talked about his trip to Qatar and he did it with a very World Cup introduction: "What a handle I am with the World Cup bpm! What anxiety seized me! Let's go Argentina!"commented the journalist and businessman on his Instagram account.
"They have been asking me for days, insisting on the same thing. The truth is that it is a question that still did not have an answer and today it does. Today I am going to say it. So much that they have asked me, that the day has come to answer itso I'm going to answer what they want to know so much," he said. Marcelo Tinelli.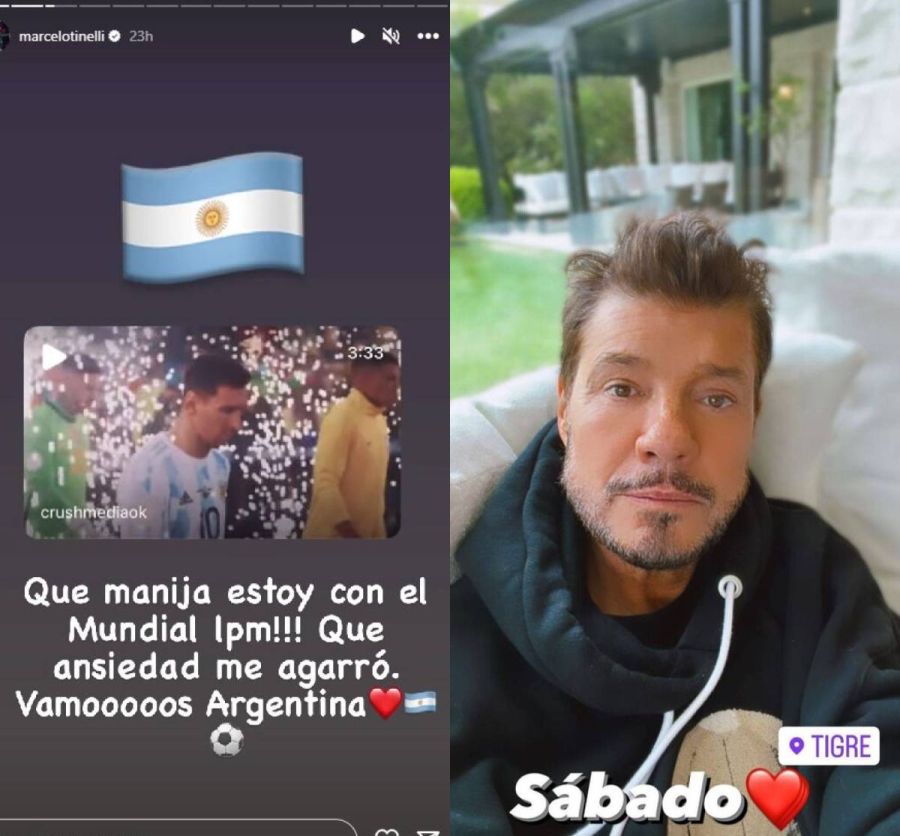 Without any more preambles, Marcelo Tinelli shared a new story with World Cup stickers where he gave the long-awaited answer: "The question that many have been asking me for days is, if I'm going to be in the Qatar World Cup. She had been thinking, but hey, lI mean I'm going to the World Cup in Qatar", commented the presenter.