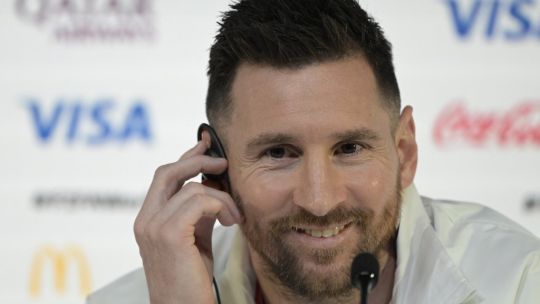 A few hours after debuting with the soccer team in the Qatar 2022 World Cup, Lionel Messi spoke at a press conference with the media around the world. There, Antonela Roccuzzo's husband raised calm about his state of mind along with the physical after the viralization of a photo, where he is seen with a swollen ankle.
"I feel very good physically. I arrive at a great moment both personally and physically and I don't have any problems. I heard that I trained differently for a hit and caution, but nothing unusual", he admitted Messi.
The captain also explained that "it's a different time in the season, with a lot fewer games. I felt good, I found my rhythm and I always felt comfortable, and that's what I've tried to do up until now. I didn't do anything special, I took care of myself as I always did in my career".
"It makes me happy that there are many people who want the same thing as me. It will probably be my last World Cup, the last chance to achieve what we all want. We come from winning and that decompresses a lot. It helps people not be so anxious and can enjoy the moment", he added.
In that same thread, Lionel Messi He added: "I am more mature at another age. I want to enjoy every moment that I have to live. Today I enjoy everything more. Before I enjoyed playing and I didn't have time to enjoy it a lot and think about the next game. Today I try to take advantage of the moment and enjoy".
Excited and looking forward to the game on November 22, the star managed to say: "Age makes you see things differently and give importance to small details. Today, enjoyment is above anything else."
"What leads me to keep trying is the illusion, the desire and always wanting more. You always have to try, whatever it is, and not stay with the desire. We never know if we are going to be able to play another World Cup, I tell them to my teammates to enjoy the experience to the fullest, the people and the game", he exclaimed in full press conference with Scaloni.
News in update.