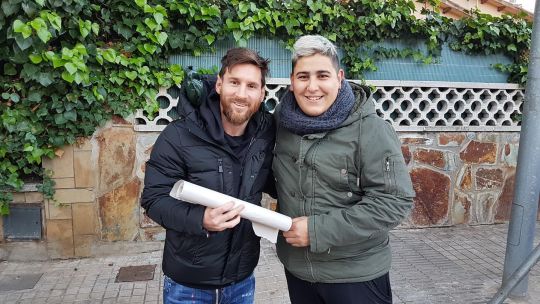 The chapu martinez He is one of the 50,000 Argentines who traveled to Qatar. On his social networks he confessed to be fulfilling the dream of his life which is to encourage the national team.
"4 years ago I left with the hope and dream of a fan of seeing my country at a World Cup for the first time, I achieved it and it changed my life forever. Unfortunately, like all the previous World Cups after 1986, we could not lift the cup, but we continue to support the light blue and white. Today life gives me revenge, or the new opportunity to go to a world cup, to enjoy, to work and to be able to continue growing and changing my life and that of my family", said the influencer.
But the experience of witnessing the World Cup is not all joy because when he arrived in the host country he found out that he had been scammed.
The driver of Nosotros a la mañana that is broadcast on channel thirteen, Chicken Alvarez was able to interview him in the street while the fans are already celebrating
"I ask you a question, I saw many videos that you had been scammed. Did they scam you or didn't they scam you? Because you're here, what happened to you?" asked the driver who is covering Qatar 2022.
"Yes Yes. There was a scam with the World Cup tickets, it was a downer, it's a downer. I am bitter ", replied Chapu Martínez
The outraged influencer reported that he was not the only victim of the scam: "He is someone who defrauded a lot of Argentines. To me he cheated out of 900 dollars, but there are Argentines who cheated them out of 50 thousand dollars. I have a friend who scammed him out of $50,000." He explained: "Supposedly he worked at AFA, so he supposedly took us out of AFA, he charged us everything. He dilated us, he dilated us and well, one day he deleted the profile, he deleted the Instagram ".
El Chapu Martínez provided information regarding the scammer. "The craziest thing that this guy was known because three years ago he had been working in a well-known agency that allowed him to give entry to the fan who is not a member of the club, you saw that if you are not a member of Boca or River you are not you can go, then the chabón would get you the ticket and make you live the experience, super well-known, notes in all the media and well, suddenly, it was erased ", he concluded excitedly in the streets of Qatar.