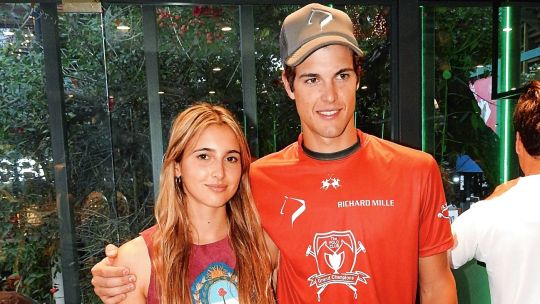 unlike his mother Maria Vazquez, Mia Cambiaso (20) He prefers not to watch his partner's matches from the palenque, but instead settles in the stands to closely follow the performance of Juan Zubía (23), the back of La Irenita Grand Championsone of the teams that started with the best foot Palermo.
A custom that was repeated on Saturday on court 1, when the foursome led by Pablo Mac Donough (40) scored another resounding victory in the Triple Crown, as they beat La Ensenada/Murus Sanctus 13-11 and virtually qualified for the semifinals of the 129th Argentine Open. When it's all over The daughter of Adolfito Cambiaso (47) went to the La Martina stand to meet her boyfriend again and congratulate him on the new success of his team.
Canchera, with fashionable jeans and a muscle shirt on whose front the Argentine shield was displayed, shared the happiness of the polo player in an event organized by the traditional brand linked to polo. Proud of the good present that he is going throughl, it will soon be Mía's turn to demonstrate her skills with the cue, since starting Tuesday the 21st she will play for La Dolfina in the women's polo Argentine Open.