For several weeks, Marine El Himer has been the target of countless controversies. And that has nothing to do with his past pranks on reality shows. Recently, Océane El Himer's sister converted to Islam. Being very active on the networks, the young woman immortalized this moment which upset her at all levels. In the process, the ex-girlfriend of Benjamin Samat also relayed beautiful images of his pilgrimage to Mecca.
"These moments mark the happiest day of my life. There are no words strong enough to express the intensity of happiness and emotions experienced at this very moment. A spiritual journey that I hope will continue to uplift and guide me Inch'Allah. I don't know how to thank you for your precious support and kindness. Many thanks to all of you"she said on the Web.
If a large part of his community was delighted with his trip, Internet users were ulcerated by his posts. "We can't do Umrah with false eyelashes, darling", "You're in contradiction, it's not possible to go from a person who appears half-naked and suddenly put on the veil. You are actually looking for yourself. Really what a bad image you give to young people", "It's pretty but for me it doesn't Snap. It is between Allah and you the telephone is limited I find in this sacred but good place".
"When I see incoherent people…"
In the midst of turmoil, Marine El Himer prefers to ignore criticism! But this Friday November 18, 2022, Maeva Martinez, the ex-candidate of Secret Story 10 took to her Instagram story to indirectly target the pretty brunette. For the main interested party, some web stars talk about religion only for the buzz or to boost their business. Something that concerns him…
Thus, she relayed the image of a nun ready to receive the host… Also revealing her tongue piercing. "How I see the girls of reality TV who after not caring well show themselves in photo with the Koran and all that goes with it", explained Maeva Martinez who is uncomfortable with the " staging ". "I am a human being who advocates truth and authenticity, I am also imperfect and I have my opinions. Me it bothers me when I see incoherent and non-aligned people. If you decide to overexpose a new way of life, be consistent with everything else…".
BN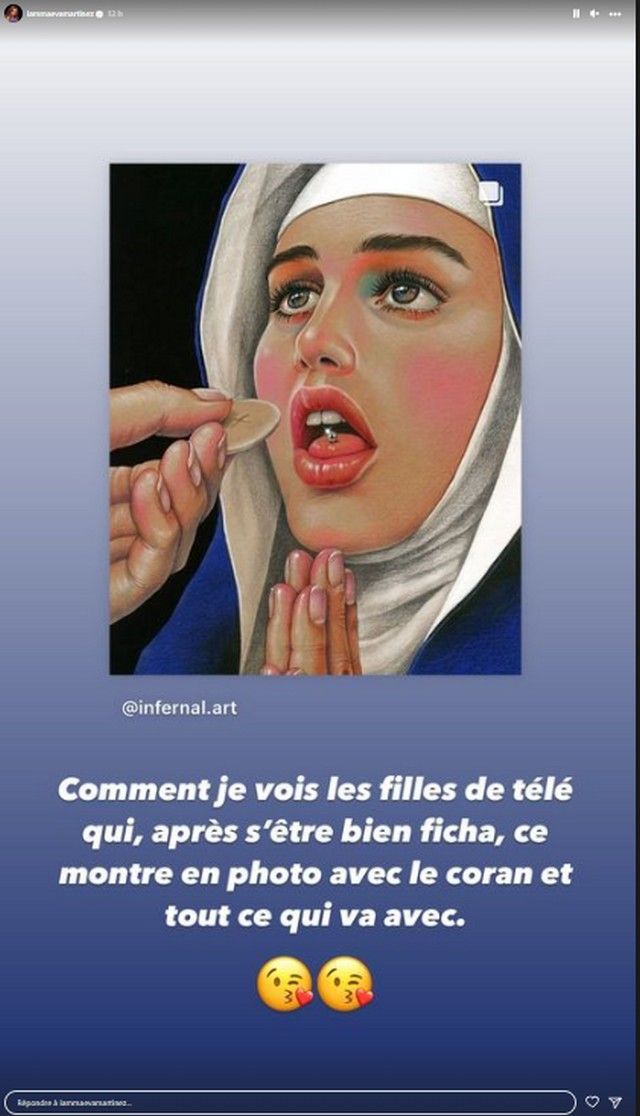 to see also: Marine El Himer: after the veil, the strange wedding with great pomp of the reality TV star in Morocco!